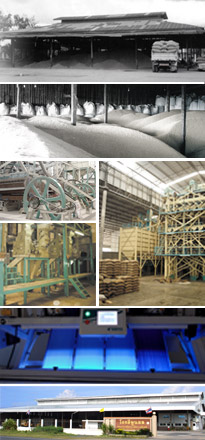 From ancient times, rice has been the staple food for citizens of Thailand and many other countries. "Thai Hom Mali Rice" is regarded as the best quality rice in Thailand and is officially recognized as "The Symbol of National Thai Rice".
Thai Hom Mali Rice, the true Thai Jasmine Rice, is typically of long grain Indica rice, but with a slimmer and longer shape. When Thai Hom Mali Rice is cooked it is pure white in color, silky and smooth with a soft texture, and naturally fragrant both in scent and taste.
Thai Hom Mali Rice is part of Khao Dok Mali 105 and R.D. 15 sub varieties which is rain-fed, leading to only one crop planted annually. During the harvest season which runs from December to April Thai Hom Mali has its strongest aroma. When the crop gets matured the aroma will decrease, but still possesses the distinctive and unmistakable fragrance.
poonpon Rice Mill is located in the heart of Surin Province and has been in the rice milling business for over 30 years enabling us to produce a high- quality Jasmine Rice Product.
The majority of Thai Hom Mali Rice plantations are located in the northeast part of Thailand. Surin ranks at the top in Thailand where the highest quality rice is grown. Farmers of Surin Province utilize their plantations four months a calendar year during the rainy season. The remaining 8 months the fields are rested, conserving water resources and irrigation facilities. This adds the benefit of eliminating nearly all plant diseases and insect problems. The result is that no chemicals and pesticides are necessary for growing rice in Surin Province. poonpon factory can guarantee that the Thai Hom Mali Rice we manufacturer is chemical and insecticide residue free.
poonpon works with the farmers as a cooperative community to regulate the production of Thai Hom Mali Rice. Regulation starts from planting of seeds and transplanting procedures to harvesting and finally post harvesting techniques. We also use modern hygienic rice milling machinery to guarantee quality throughout the entire rice processing process. Machinery is controlled by the scientific principles and laboratory testing results.
With dedication towards customer service, poonpon has gained trust from customers resulting in expanding the business to cover the globe. These countries include West Africa, South Africa, Europe, and Asia. poonpon delivers customers fresh and high quality Thai Jasmine rice and other kinds of rice under our own label as well as customer labels.
poonpon is bound by its quality policy and makes every effort to improve each aspect of its business. Dedicated to meeting stringent quality standards, the company has been certified by HACCP, GMP, UKAS, and ISO 9001 : 2000. Customers can rest that our product is fresh, hygiene and sanitory.
With continuous improvement through research and innovation, poonpon invests in energy and time to develop new products that will meet the customer's needs. When poonpon launches new products people can be assured it is clean, pure, fragrant and delicious.
With the know-how behind us poonpon has manufacturing flexibility and delivers product consistency. poonpon is your trusted and reliable partner in the rice industry.